The U.S. Department of Labor's Occupational Safety and Health Administration (OSHA) fined a Texas-based metal stamping company a total of $412,750 after an employee's two fingers were severed while working with a 500-ton machine (hydraulic press) at their facility. The entity previously established a reputation for violating workplace safety regulations aimed at protecting employees from the risks of moving machine parts.
In a decision dated July 15th, OSHA inspected the facility in January 2021 and found "two willful, 12 severe," and three other breaches identified in the El Paso-based D&D Manufacturing Inc. Thus, proposing the stiff $412K penalties. OSHA also mentioned that the facility had 34 severe violations in 2014. For a total of four willful, six serious, and three other-than-severe breaches, the firm was reprimanded twice in 2015 by the same government agency.
Moving parts in a machine pose the risk of losing limbs or other injuries. Safeguards are needed to protect workers from these injuries, including broken fingers or hands, amputations, burns, and even blindness. Any machine part with risks must have safeguards for protection against them. Like physical barriers that prevent contact, these machine guards can be fixed or self-adjusting. Fixed machine guards are permanently installed and cannot be moved; adjustable ones adjust to fit the size of a variety of objects. When an operation is done incorrectly on a piece of running machinery or when accidental contact occurs, causing injury to the operators nearby — this hazard needs attention so that no other employee is harmed again.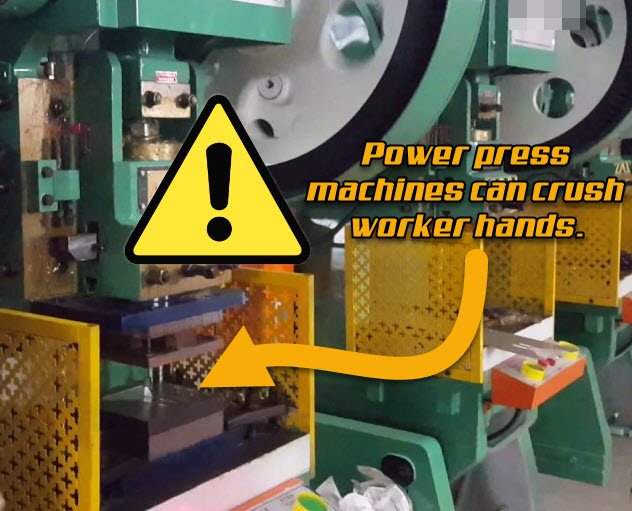 During the OSHA inspection, the intentional and significant breaches demonstrated that the company disregarded the workplace's requirements for laborer safety measures. When moving machine parts are not adequately guarded, and safety protocols are not followed, these can inflict catastrophic injuries.
Personnel must obtain adequate training before working any equipment or power tools in an effort to stop possibly serious injuries. Workers who have not had prior training should never handle machines. All employees working with equipment are required to:
Before each usage, visually check all equipment and guards.
When it comes to lockout/tagout gates, be sure these are installed correctly.
When loading up a machine, tuning an engine, removing jams, cleaning, or lubricating parts, workers must follow the manufacturer's instructions.
Do detach guardrails and handrails near a machine when it is in operation.
All defective guards and machinery should be marked "Do Not Use" and reported as soon as possible.
Fortunately, the vast proportion of machine-related injuries are easily fixable. Ensure that all personnel receives adequate orientation before they engage any machines or guards. All necessary maintenance and repairs are performed regularly to maintain workplace safety and prevent expensive accidents and lawsuits. Employees should be instructed not to remove machine guards before or while using a machine in the future.
As for D&D Manufacturing Inc., the company has 15 days to comply with the regulations upon receiving the citations and fines. They may also seek an informal discussion with OSHA's local director or challenge the findings before an independent body.