When operators are required to access tall vehicles such as isotainers, tanker trucks, and railcars in loading and unloading bulk products, it's important to assure two things: operator safety. including fall protection, and sufficient vehicle access.
Falling is perhaps the most obvious operator risk, as a fall from atop one of these vehicles—which may be several stories tall-could result in serious injury or death. OSHA regulations stipulate that employers must provide fall protection equipment when working at heights. Assuring operate stability during loading and unloading is also critical, as dry bulk, chemical, and liquid products are heavy and often awkward to handle—making a stable working surface necessary. Safety also includes protection from adverse weather conditions, including rain and heavy wind.
To keep operations running smoothly, fall protection equipment must not hinder operator-accessibility. If a fall protection safety cage or hoop interferes with productivity and throughput, the equipment cannot be deemed a successful solution. Additionally, access and fall protection equipment should be selected based upon the application flexibility and longevity it provides. To further enhance the effectiveness of this equipment, customization is an invaluable option—customizing the equipment to suit unique application parameters, such as challenging weather conditions and taller than-standard vehicles.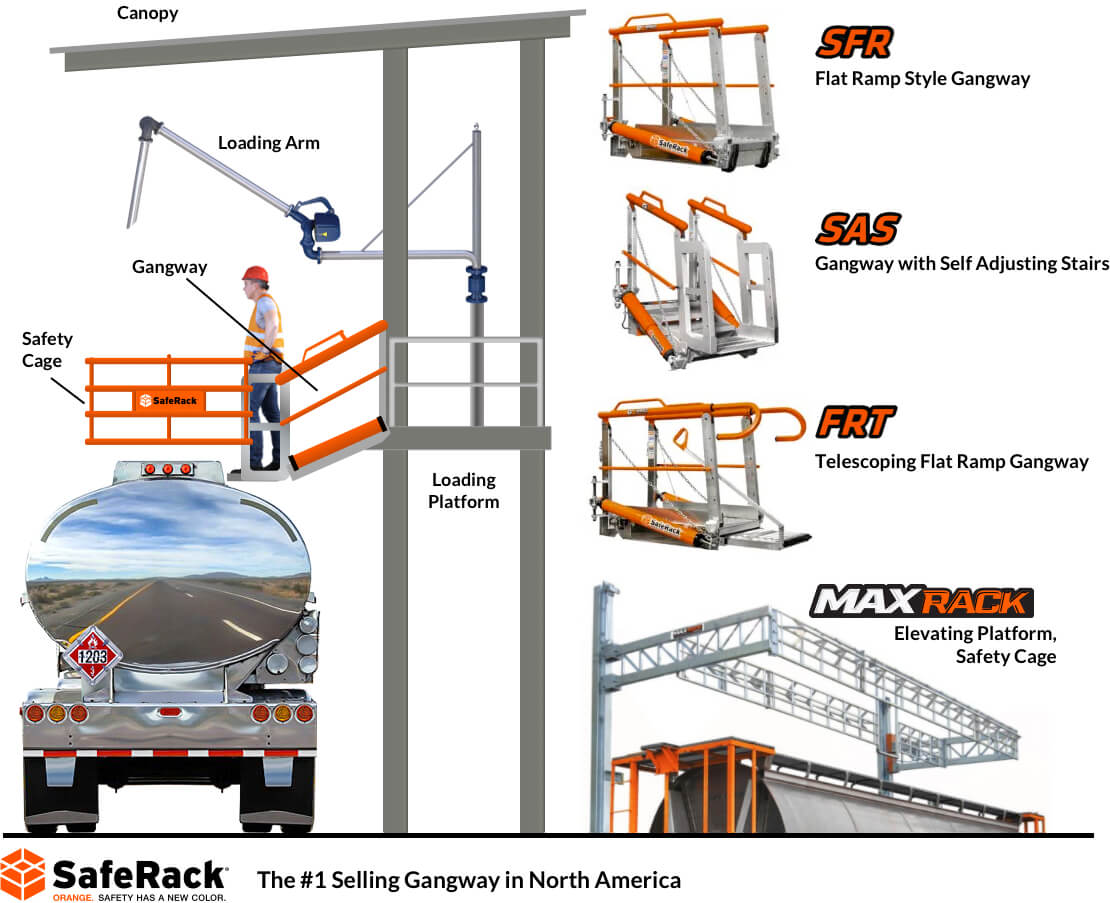 ---
Bulk Loading Safety and Access Features
All equipment should provide operators with a stable walking surface with a non-skid grip platform design, and each means of access. including loading racks or platforms and gangways (also called safety bridges or safety stairs). Loading racks feature heavy-duty construction platforms designed to give operators access to the top of tanker trucks, railcars, or isotainers for loading/unloading, even in the harshest outdoor environments. Those loading racks have safety stairs or gangways for operators to safely access the tops of single dome vehicles for top loading. Ramp style gangways are designed for operators to access the top of a vehicle where the working range is within 15 degrees above or below the platform height. Gangway ramps must have built-in stops to prevent it from traveling beyond the 15-degree range. A gangway with stairs is ideal for applications where the working distance is greater than 15 degrees. Both styles of gangways may be secure and easily raised or lowered, otherwise, the is a risk of operator injury with repetitive use. Gangway must include safety features to ensure equipment can't be used beyond safety tolerances. Another feature a gangway may have a telescoping section, which extends the gangway and adjusts if the vehicle is poorly positioned.
For applications where the use of access and fall protection equipment is limited or where permanent truck loading platforms and foundations are impractical. portable platforms are an ideal option. They can provide operators with a rugged loading area, with an adjustable height. In addition to vehicle loading, they can also serve as a maintenance work platform.
For superior operator access and fall protection when loading tank trucks or railcars with multiple domes, an elevating platform provides a large, safe working area with no need to rest on top of the vehicle during the loading process. The length of the elevating platform can be customized to suit the types of vehicles being loading and can be raised and lowered with a manual crank or push-button automated operation. Along with its ability to be customized to meet specific application parameters, the elevating platform and fall protection can be retrofitted to existing platforms. Its rugged, rigid steel construction ensures. these elevating platforms withstand harsh weather conditions and loading applications involving corrosive materials.
For additional protection in adverse conditions, covering the access equipment with a canopy shields operators from the elements. Canopies may also help maintain the integrity of the product to be loaded, as it keeps additional moisture from rainy conditions from permeating the product being loaded
Fall Protection Equipment Options
Few companies deal with only a single type of vehicle in the day-to-day operations—many work with isotainers one day and tanker trucks the neat. For this reason, access and fall protection equipment should be flexible to handle common application concerns.
Adjustable reach gangways allow operators to access vehicles of varying heights and lengths with ease. making them particularly ideal for accessing railroad tank cars. This equipment features an extendable portion of the gangway that may be manually mitigated by the operator and locked securely into place.
Another example of flexible access equipment is a track-mounted gangway which is comprised of a slide-track carriage that the gangway can glide along a slide-track on the loading platform. The slide-track is customizable and moves left to right to ensure operators can reach rail cars and trucks that have been misspotted. As railing extended upon this entire length would be impractical, the slide-track carriage features built-in swing gates that are three-feet-wide and feature the top-ail, mid-rail, and toe plate design that meets OSHA requirements [More on OSHA requirements] This arrangement is ideal for accessing vehicles with a single dome vehicle.
It's also important that the access and fall protection equipment selected provides a long-lasting solution. Equipment that offers durability and longevity does more than increase return on investment: it provides reliability in mission-critical processes and further assures operator safety. Because harsh outdoor conditions can quickly take their toll on these structures, the equipment selected should be designed specifically for the geographical zone in which the application is located. This may stipulate that the equipment is custom-made to withstand challenges, such as extreme rainfall and high wands in hurricane-prone areas
All the above factors should be considered in the selection of access and fall protection equipment. Also, the more tailored the equipment is to the application, the better as it helps ensure operators receive the best protection available while promoting operator efficiency. It is important to note that "custom" does not need to mean "expensive." Custom equipment often does not cost much beyond standard product offerings, but the additional safety and durability it provides are well worth the investment. Whether a canopy has been extended in length to accommodate an unusually large vehicle or an oversized walkway has been created for enhanced operator comfort. the most effective solution is the one personalized for the loading process.
---
Industrial Metal Stairs and Fall Protection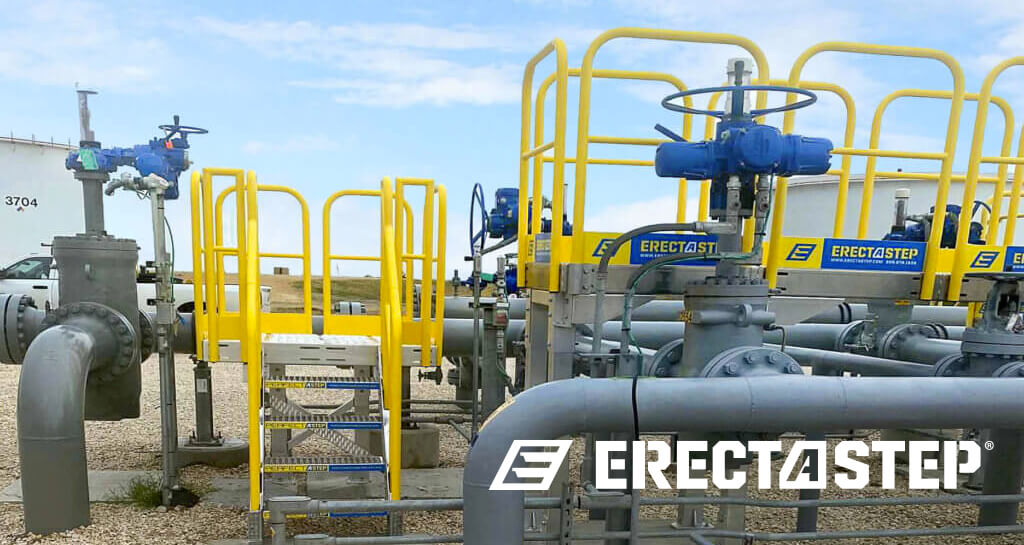 ErectaStep For Industrial Metal Stairs – Prefabricated, Easy to Assemble and Ready to Ship