When you're looking for the finest couplers come to Swivel Joints where we have the most popular top of the line Kamvalok couplers to provide you with. When you have an application where you need to be assured of no spillage occurring, these couplers are the way to go. Used by manufacturers of lacquers, adhesives, inks, paint pharmaceuticals, liquid soaps, and many other types of liquid products, they are the most reliable solution on the market today.
Constructed of stainless steel and aluminum materials, even highly corrosive and caustic products including solvents, agricultural chemicals, detergents, and petroleum products are easily transported with no spillage at all when using these Kamvalok couplers.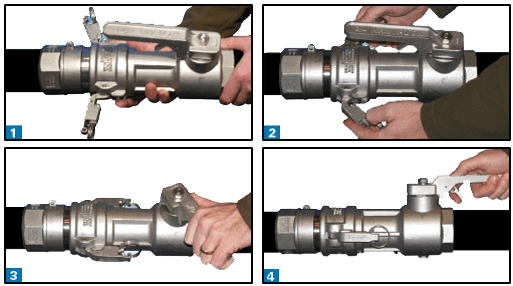 These couplers have a unique poppet action that virtually eliminates spillage of any residual liquid contained within the line after disconnection. Fitting like these is frequently used at transfer points where product loss is unacceptable such as in plants, on tank cars, tank trucks, totes, and rail cars.
There are also Kamvalok Transport Series Dry Disconnect Couplings for use on multi-compartment petroleum, solvent, and chemical product delivery trucks with onboard pumping units.
Features include:
Available in 2"
Aluminum material of construction
Offered with or without AutolokTM Locking Arms
Features Poppeted Seal Cylinder with Snap-on Nose Seal
Simple Cam and Groove Design with Lever Actuation
360° Orientation – coupler can be connected in any orientation onto the adaptor.
Manufactured in compliance with the highest quality standards of design, materials, and construction.