You can spend hours searching on the Internet for the lowest priced couplings and disconnect fittings but when it comes right down to it, don't you want to buy a product that is the industry standard for quality, safety, and ease of use? The OPW Kamlok fittings that you'll get from us at SwivelJoints are just that as well as the world's most popular cam and grove.
Whether you're looking for Kamlok couplings or kamlok couplers, OPW quick disconnects, or any other quick disconnect fittings, don't pass up the comprehensive line of products that we stock in a wide variety of sizes and configurations. We also have a wide assortment of couplers and adaptors including double and reducing couplers, spool adaptors, ANSI flanged coupler and adaptors, and schedule 40 socket weld and butt weld couplers and adaptors in a wide variety of sizes.
All Kamlok fittings have an exclusive Twin-Kam arm design feature. This system, patented by OPW, holds the adaptor more securely to protect against accidental release of fluids. Kamloks also utilize a Spring-Ring to ensure accurate positioning of fingers rings to aid in ease of operation. You simply won't find any safer, sturdier, or quicker coupler system on the market than these popular fittings.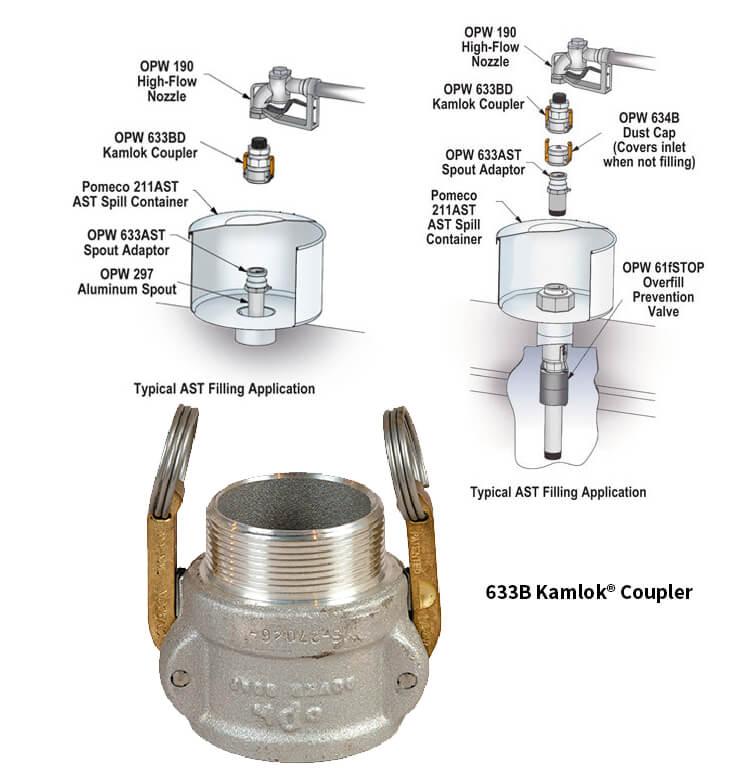 You'll appreciate that the cam and grove design means very smooth coupling and uncoupling as well as the reliable long life provided by the special design and the 316 stainless steel and gasket materials to endure even the harshest environments.
---
Fuel Delivery Couplers & Accessories are designed to connect fuel delivery transport truck hoses or nozzles to the fill pipe of an aboveground storage tank.
The 633BD has a Kamlok® Coupler by OPW Engineered Systems on one end and external threads on the other end. This coupler should be threaded into an OPW 190 Nozzle and then coupled to the 61ƒSTOP for filling ASTs.