If your company is transferring chemicals of any type it's important that you take whatever precautions necessary to avoid any spillage of liquids. It could be quite expensive for your company and it's extremely hazardous as well. It's imperative to be using high-quality Drylok couplings in order to have successful dry transfers. Nobody wants to discover the hard way that the couplings they're using are inferior. The Drylok products that we carry at Swivel Joints are top of the line and very dependable.
For fast and reliable transfers Drylok couplings on every one of your lines are the way to go. All types of applications requiring transferring of product — in-house, railcars, tank cars, or trucks and trailers — these couplings will keep your workers safe and the environment dry.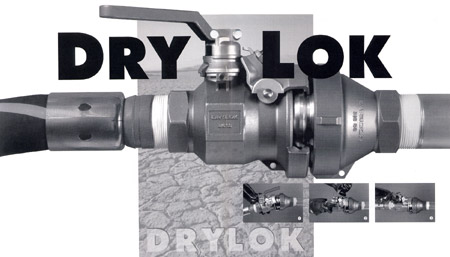 Couplers like what we carry guarantee an easy connect and disconnect. There's a handle action that connects the valve to the coupler and opens and closes the flow. Furthermore, the easy-flow interior optimizes the flow rate in all high-pressure and high-viscosity applications. There's also adjustable packing with V-type material that provides an emission-free continuous compression seal on the handle shaft.
Drylok dry-disconnect couplers cannot come uncoupled from other fittings while the valve is open. It's that simple. You can rest assured knowing that they also meet and exceed all of the stringent emission and safety requirements set by OSHA, EPA, and others in the industry today.
If you would like additional information about our drylok couplers or want to make a purchase, you can contact us through our website or by calling 1-866-761-7225. We look forward to talking with you.